The world of off-road adventure is not for adults alone, and recently we could see some kids shows interest in enjoying the off-road adventure. The good news is that the Polaris kids' side by side top the consideration lists of all-terrain vehicles you can consider for your kids.
Getting a Polaris kids side by side for your little one is a decision you never have to regret with what the ATV has to offer.

Of those two RZR 170 EFI and RZR 150 EFI, the RZR 150 EFI comes above because of its parental operational guide which helps to ensure that kids are safe to ride. Also, it has a lock code that only gets the vehicle to action which no one without the code can find it easy to operate.
What does Polaris kids' size by the side have to offer?
Great technology
The side-by-side vehicle comes with unprecedented control to ensure that your kids enjoy the limit boundaries through digital speed and geo-fencing. The design and materials used in the construction of the vehicles are topnotch, and it has all you kid ever need to experience the outdoor adventure.
Safety measure
Every parent needs peace of mind with whatever they commit to the hands of their kids, and Polaris thus offers that. Some of the vehicles come with a key safety feature that helps to assure your kids' safety, such as the adjustable speed limiter with some exclusive safety kit included.
Kids friendly performance
With Polaris side by side ATV, kids can confidently tackle any outdoor adventures and ride in style with great handling through the help of the ergonomic and A-arm suspension.
Top considerations
There are two types of Polaris kids' side by side you consider, and both are targeted at kids from age ten and above.
Polaris RZR 170 EFI
The RZR 170 EFI is an ultimate kid's sport side-by-side that is engineered to give your kids the best adventure experience they desire. It helps to enjoy the thrill of driving off-road and also ensures your kids remain safe and secured always.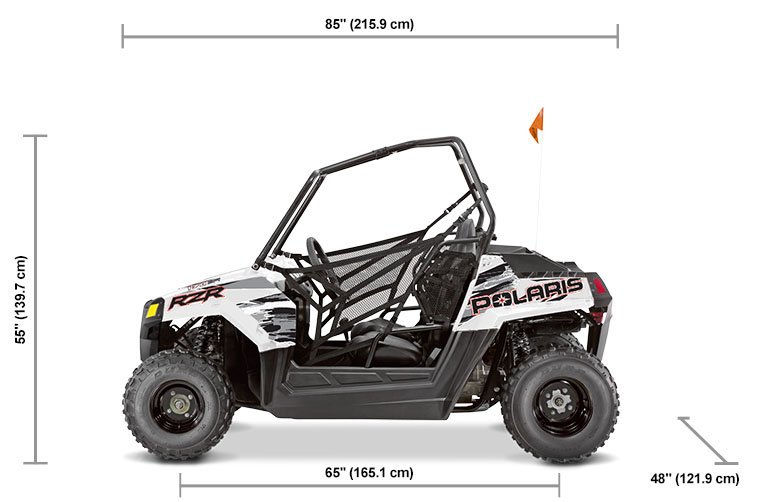 Features of the RZR 170 EFI
Six ground clearance
The 6 inches ground clearance of the side-by-side ATV will allow you to cruise over any terrain such as rock, dunes, and dirt without any difficulty. It makes it very easy and fun for your kids to ride in style, and it makes the experience worthwhile.
Five suspension travel
Suspension is engineered into the side-by-side sport, and it plays a great role in dealing with shocks to ensure your kids don't get too much impact whenever they drive through rough or coarse terrain.
Tilt steering
The tilt steering of the vehicle contributes to the easy transmission, which makes it effortless for your kids to move the vehicle from one place to another without hassles. The steering moves smoothly, which makes it easy for it to move in the direction you turn it to.
LED daylights
The LED daylights are one of the features that come with the vehicle, and it thus beautifies and also serves as a source of illumination to brighten your view whenever your kids drive at night. It doesn't have much effect during the day and work more at night.
Speed limiter
With a parent adjustable speed limiter, the safety of your kids is assured because you can adjust the speed and ensure they do not Overspeed to the point that they have to get themselves injured.
Seat belt and safety nets
The size by side sports manufacturer doesn't just focus on the fun part of the vehicle but also have your kid's safety at heart which is the reason it comes with seat belt and safety nets to ensure your kids is safe whenever they drive. Also, it has two youth helmets and a training DVD.
Adjustable seat
It didn't come with a fixed seat which could be a great issue to deal with, but one that is adjustable. Your kids can easily adjust the seat to the point that it is convenient and comfortable for them.
Protective cage
The protective cage is also one of the safety measures that is engineered in the side-by-side vehicle, which helps in maximizing the safety of your kids whenever they drive the vehicle.
Polaris Ranger 150 EFI
The RANGER 150 EFI comes as another option for you to consider, and it has some advanced features which are not present in the 170 EFI. It is well built with high-quality materials, it is super solid, strong and can withstand any tough conditions.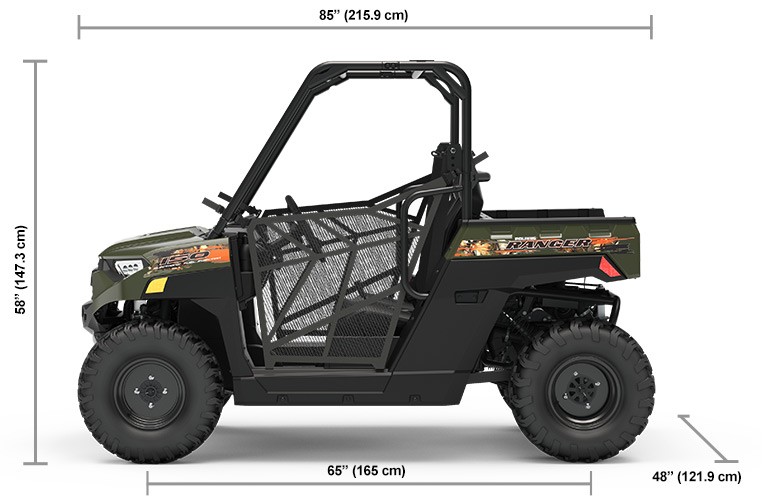 It is built to handle different ride challenges, and it comes with standard safety settings to ensure your kids are safe whenever they ride the vehicle.
Features RANGER 150 EFI
Geofencing capabilities
The vehicle comes with a feature that allows parents to give restrictions on the areas they want their kids to drive the vehicle. Kids are restricted through this feature, and it helps parents to monitor their kid's movement with the vehicle.
Digital speed limiting
Through the app on your mobile phone, you can easily set the speed range for your kids and the terrain you want them to drive through. With the command button on your app, you can set the speed yourself and ensure your kids don't Overspeed.
Passcode protected safe start.
Unlike some other vehicles that your little one can operate without your supervision or approval, the RANGER 150 EFI comes with passcode protected safe start. Without the passcode, your little one can never start the vehicle, and that means they can only do that with your permission and consent.
8 inches ground clearance
The vehicle has 8 inches of ground clearance which makes it ideal for each access and movement on different terrains for your kids to enjoy every minute on the vehicle. With the clearance, your kids can always enjoy their adventure with the vehicle.
Safety and comfort
The vehicle package comes with a safety fly and two helmets. Also, it has adjustable steering wheels and a driver seat to ensure the vehicle is fun and safe for kids to use.
RZR 150 EFI and RZR 170 EFI Compatible accessories
Half windshield
The half windshield offers protection and also gives the driver access to optimum airflow. It helps to prevent the driver and the passenger from debris and dust. It is made from high-quality and reliable impact-resistant polycarbonate material. The installation is simple and quick without the use of any tools.
Front Brush guard
The front brush guard gives the side-by-side vehicle an excellent look. It comes with a powder coat finish, and so it helps to protect from brush, low hanging branches and trail debris.
Canvas roof
The canvas rood is another accessory that you can consider for your kid's Polaris side by side vehicle as it helps in protecting them from direct contact with the sun. The canvas is made of high-quality 600 deniers' solution-dyed polyester material. Also, the canvas is fade-resistant, strong and long-lasting.
Conclusion
This post on Polaris kids' side by side will help parents or buyers find it easy to make the right selection from the two Polaris vehicles we have on this page. We have detailed information on the two, and we hope you find this information interesting.