Arkansas is famous as the "wonderland of the USA," a state in the southern United States. It is popular for its many parks, desert, and wilder areas with a landscape that includes caves, rivers, mountains, hot springs and ATV or UTV trails. So if you are an ATV or UTV lover who is looking for an ultimate gateway to enjoy your ride, you're welcome to the adventurous UTV Trails in Arkansas.
However, Arkansas State Parks enable the most reliable way to undergo the remarkable Arkansas beauty. The paths pass through mountainous terrain, along streams and rivers. In fact, you can roam the wilderness-filled lowlands and travel to historic places that reflect the history of Arkansas.
Let's find out more about it!
How many Off-Road Trails are in Arkansas?
On your way to Arkansas, you'll find a significant number of 4×4 off-road tracks and well-organized off-road parks. Of course, here, you can practice your skills in a more private setting.
You are also close to amenities if you want to camp or spend the night.
While it is primarily a dirt trekking destination, there is plenty in Arkansas for off-road enthusiasts. Based on the latest statistics, we found 71 of the total trails in Arkansas, with 35 of the trails being UTV trails.
So, where is the best place to get off the road in Arkansas?
From parks to trails, mud to dry land, Arkansas has a variety of off-road locations. Indeed, Arkansas can be a great vacation where the whole family can enjoy the beautiful countryside, whether it's off-road or not.
A guide to the Best UTV trails in Arkansas:
Arkansas has plenty of off-road trails to offer if you're looking to take a UTV or ATV adventure. Let's take a look at the 15 best UTV trails in Arkansas.
Top 15 Best UTV Trails in Arkansas
Car Wash Falls
Mulberry Mountain
ATV park of Hillarosa
Hot Springs ORV Park (4×4 Rock Hop G19)
North Little Rock ORV Park
93054N
Huckleberry Mountain Trail
Hot Springs ORV Park (Bilstein Ravine B19)
Wolf Pen Gap ATV Track
Dam Road-F13 (Hot Springs ORV Park)
Fourche Mountain Trail
Deberrie Road
Byrd's of the Ozark Adventure Center
Fairchild (Forest Road 135)
Mack's Pines
1. Car Wash Falls
Difficulty level: Easy
Big Piney Creek flows south of the Ozarks at the confluence with the Arkansas River near Rasville, Arkansas. The area is popular with the hotel, canoe, kayak, cyclists, hikers, SXS / ATV riders, anglers, hunters, and those who love the countryside.
The trail is similar to Big Piney Creek and Hurricane Creek, for the most part, offering great views of the water and foliage along the road. If you love riding in a place with natural feelings, you can choose this trail for your UTV.
The highlight of the route is Karoysh Falls. Surprisingly, Karoysh Falls contains a stream that flows over a small limestone rock on the road in front of the entrance to Big Piney Creek.
2. Mulberry Mountain
Difficulty Level: Easy
Mulberry Mountain is a 650-acre residential and entertainment center. You can find this place near Ozark National Park in Arkansas along Highway 23, the Pig Trail National Scenic Route. Mulberry Mountain offers year-round caravan and tent campsites, taxi rentals and a cabin, a conference room, and a banquet.
Moreover, this trail provides you with a theatre and many exciting festivals and camping, hiking, UTV and ATV trails, canoeing, horse trails, and hunting.
Notably, the 6,000 square foot conference and banquet room is an impressive creation. Furthermore, people also used this trail in convention, meeting, and wedding venues in Ozark Mountain, Arkansas.
3. ATV park of Hillarosa
Difficulty Level: Easy
On certain weekends, Hillarosa offers 2,000 acres of deep swamps, waterways, and muddy trails. Occasionally there are live music concerts, deadlift races, and other special events.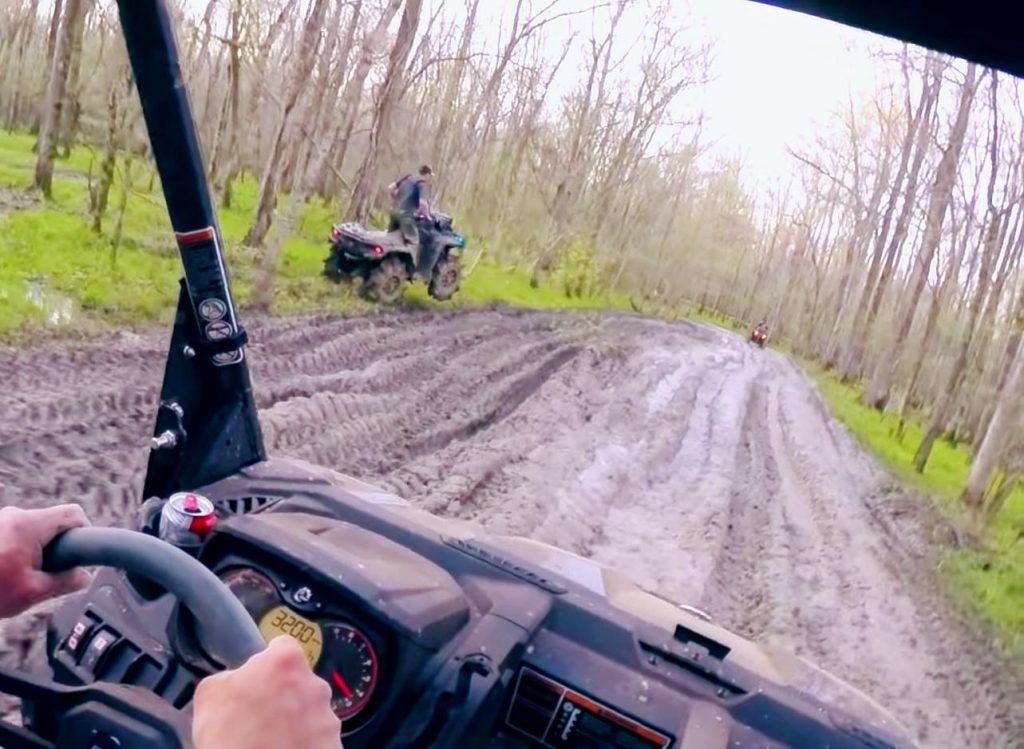 The park is open to ATVs, UTVs, SUVs, as well as primitive camping and fishing.
4. Hot Springs ORV Park (4×4 Rock Hop G19)
Difficulty Level: Moderate
4×4 Rock Hop G19 is another excellent road that leads to Hot Springs ORV Park, where you can get some shelter from the sun and enjoy the shade.
Sit at the picnic table, relax and recharge before continuing the excitement that awaits you at Fun Run G3, one of Jeep's "Badge of Honor" tracks. The Children's Belt at Waypoint 3 is an excellent place for toddlers to spend time on their UTV.
If you travel far, plan to stay there for a short while. Then, you can roll trails for days and not get to the middle.
Anyone can come in and get the most value for their money from a few days of horse riding or extreme climbing from beginner to expert. After a day on the trail, shower in the park and head to the city center to enjoy all that Hot Springs has to offer.
5. North Little Rock ORV Park
Difficulty Level: Moderate
This is one of the nearest rough terrain parks to Little Rock. This 200-section of land wild terrain leave is available to off-road vehicles, UTVs, and soil bicycles.
This free park is open day by day from 8 a.m. until dim. However, you need to keep in mind that setting up camp isn't allowed; the Willow Beach campsite is only a couple of miles away.
6. 93054N
Difficulty Level: Moderate
This tech trail in the Ozark National Forest is a great way to save time by traveling from Adams Mountain Road to North Fork Road to continue exploring other forested areas. But be cautious … you need a laundry locator.
If you enjoy challenging tasks and prefer to avoid natural dirt roads, the 93054N is the right choice for you. This short route is a great way to get around these dirt roads, learn to drive technically, get a good experience, and practice with an observer.
It's not the most challenging path, making it PERFECT for a beginner SUV with a good spotter or an intermediate off-road experience with novice beginners looking to practice.
This trail offers many experiences, including a challenging hill climb/descent, slides along the main trail, and an exciting west end climb.
7. Huckleberry Mountain Trail
Difficulty Level: Hard
Highlights Trail: Consisting of two main loops, this trail offers 40 miles of scenic hiking, horseback riding, and mountain biking in the Ozark National Forest.
Deep serpentine valleys surrounded by cliffs allow clearing mountain streams. This trail runs close to the Mount Magazine State Park hideaway, huts, and campground, ideal for an ATV vacation.
8. Hot Springs ORV Park (Bilstein Ravine B19)
Difficulty Level: Hard
Visitors recommend it for all flow lovers and those looking to be flexible. The V-notch is the culmination of the route, and you are right from the start.
Get behind the wheel, choose your UTV and have fun showcasing your skills on the platform. Once you pass the V-neck, take a breath and enjoy the rest of the trail as you travel to the stream, enjoying the views and sounds of the forest.
9. Wolf Pen Gap ATV Track
Difficulty Level: Easy
These 35-mile loop trails offer views of the high mountains. Moreover, the route leads to various locations such as the scenic Board Camp Creek and Gap Creek.
Again, the off-road park route continues through a forest of tall pines and hardwoods. Consequently, it passes by a unique two-legged oak tree and an abandoned mine.
Besides, authorities connect the track loops for the convenience of cyclists wishing to change the length of their tracks.
The barrier is open all year round except for the deer hunting season. This season runs from mid-November to early December.
The beautiful scenery along the scenic and recreational Cossatotte River makes this one of the best off road driving trails in Arkansas for UTV/ATV riding.
10. Dam Road-F13 (Hot Springs ORV Park)
Difficulty Level: Moderate
The stress factor per kilometer on Dam Road is exceptionally high! However, the tough climb at Hot Springs ORV Park, located between Pond Road and Main Road 2, is less than a tenth of a mile long and has only one obstacle.
The trail starts innocently enough, next to a wooded lake. The real excitement begins when you turn the vehicle and start riding. To the joy of some and the disappearance of others, you must carefully approach the burnt area and choose the correct line.
Differently, you may fall into risk in the middle of the path. Dam Road will appeal to those looking for more severe hazards, as the consequences of a rear-wheel rollover can be painful. It would be great to add a day after the Rover's Ravine F7 race if you love the thrill.
11. Fourche Mountain Trail
Difficulty Level: Moderate
The Fourche Mountain Trail (formerly known as the Mill Creek Horse Trail) offers magnificent views of Mount Fourche and Bak Nob. Abandoned silver mines, beautiful streams, and many stunning views of the Ouachita Mountains make this route one of the best UTV trails in Arkansas.
While this network of trails offers horse riding opportunities, it also offers day hikes, mountain biking, ORV, and motorcycle rides, making it ideal for family ATVs. In addition, the nearby town of Waldron provides a variety of accommodation options.
12. Deberrie Road
Difficulty Level: Easy
Deberrie Road

/ 607 offers a variety of landscapes on this 10-mile guided tour of Washita National Park! It begins with a scenic forest road. Halfway down the road, you will cross an incredibly enchanting forest canopy.
Then, see the Wallace Bridge, the Fourche-Lafave River, and beautiful fields with the Ouachita Mountains in the background. Then, bundle Duty Road with Doyle Springs / 207, Forest Road 29000, Trail 86 to West Forked Mountain / 124, and Winona Auto Tour Scenic Drive, you have hours of adventure!
13. Byrd's of the Ozark Adventure Center
Difficulty Level: Easy
Byrd's offers exciting trails and playgrounds for your UTV, ATV, motorcycle, or 4×4, with cards available. Moreover, it provides 800 acres of camping and trails along the Mulberry River in the Ozark National Forest

.
Accommodation ranges from campsites on wheels with water and electricity to primitive camps and cottage rentals. Guests have access to hot showers, indoor picnic areas, performance areas, and a fully stocked general store.
Pilots use a 2,500-foot runway – canoes, kayaks, rafts, and tubing are available on the Mulberry River. Byrd's Riverfront Restaurant serves smoked meats, steaks, trout, homemade desserts, and more. Notably, the restaurant is open from Friday to Sunday from March to December.
14. Fairchild (Forest Road 135)
Difficulty Level: Moderate
Fairchild of Forest Road 135 is a 4.7-mile shortcut from Alum Fork / 114 to Lake Winona Drive / 132, part of the increasingly popular Winona road hiking trail. Fairchild offers a short mud swamp, a few scattered campgrounds.
Moreover, you can find a half-mile of a rather steep slope with a few slightly steep turns before you reach the summit of Crystal Mountain. Whether you're busy for the time or just exploring the beautiful Ouachita National Forest, this is the perfect hike. Due to the small amount of dirt, we recommend using only multi-story vehicles.
15. Mack's Pines
Difficulty Level: Moderate
Situated between 36 miles of US Forest Service trails at Moccasin Gap, Mack's Pines are a great place to enjoy utv vacations, horseback riding, hiking, biking (bring your own), camping, and more. Accommodation rates include taxi rentals, camper vans, and primitive campgrounds, and Cozy Cafe has its restaurant.
Try UTV riding parks in Arkansas:
Car Wash Falls
Mulberry Mountain
ATV park of Hillarosa
Hot Springs ORV Park (4×4 Rock Hop G19)
North Little Rock ORV Park
93054N
Huckleberry Mountain Trail
Hot Springs ORV Park (Bilstein Ravine B19)
Wolf Pen Gap ATV Track
Dam Road-F13 (Hot Springs ORV Park)
Fourche Mountain Trail
Deberrie Road
Byrd's of the Ozark Adventure Center
Fairchild (Forest Road 135)
Mack's Pines
If you just start riding UTV, try it off-road

. You can try out different state parks and off the road. For example, in Arkansas, UTV is prohibited on the main road, and they have parks for it. So again, if you want to enjoy the river, mountain, and desert together, you can try out UTV Trails in Arkansas.